Attendance
Miss Jodie Dobbs is the Attendance Officer.
Mountbatten Primary School expects all children to have 100% attendance and punctuality.
Regular attendance at school improves the life chances of children and young people and plays a vital role in raising attainment and tackling under achievement.  Parents have a responsibility to ensure that their children attend school regularly and to let the school know immediately if their child cannot attend school and the reason for such absence.
The school monitors attendance and lateness, and addresses any problems identified. The school recognises and rewards pupils for good attendance weekly, half-termly and termly.
Download our attendance and punctuality policy:
Punctuality
Parents/carers have a duty to ensure their child attends school regularly and is on time.  The school doors open at 8.40am in a morning and close at 9am.
Lateness
It is very important that children get into the habit of arriving at school on time, every day as this sets the pattern for the rest of their school life.  Regular lateness not only disrupts the learning of the child arriving late but also interrupts the learning of the class they are arriving late to.
Any child arriving late must report to the school office to be registered.  A member of office staff will record the name of the pupil, time of arrival and reason for lateness, they will then be taken to their classroom by that member of staff.
Absence
If your child is absent from school, it is the responsibility of the parent/carer to let the school office know as soon as possible.  This can be done through ringing the office on 01482 375224 or sending a message by Parentmail.  If a child is absent and no information has been received, Miss Dobbs will phone parents/carers to find out about the absence and may follow this up with a home visit.  The school will make the decision whether an absence is authorised or unauthorised.  An unauthorised absence is when your child is absent from school without good reason.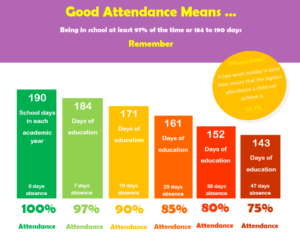 Working together
It is the parent/carers legal responsibility to ensure their child/children attend school regularly unless they are ill. The school has a responsibility to do all that it can to ensure this happens.
Please let us know if you are having difficulties getting your child/children to school. We are understanding and can provide support for families.
Leave during the school day
This is given for medical and dental appointments by prior arrangement with the school, and proof of the appointment will be requested.   Where possible, we ask that these appointments are made for outside the times of the school day or in school holidays.
Family holidays and extended trips overseas
In normal circumstances, holidays during term time for pupils will not be authorised.  If parents/carers wish to take their child on holiday during term time they must out it in writing at least 14 days before the start of the holiday, providing the dates and reason for the holiday.  A nominated Governor will make the decision if a fine will be issued for the holiday.  Parents/carers will be informed by letter what the outcome is.
Newsletters
Our Attendance Officer, Miss Dobbs, sends home weekly newsletters to parents/carers to deliver important messages and about attendance and punctuality; and about other things that have been happening in school.  The newsletters are available to view below: